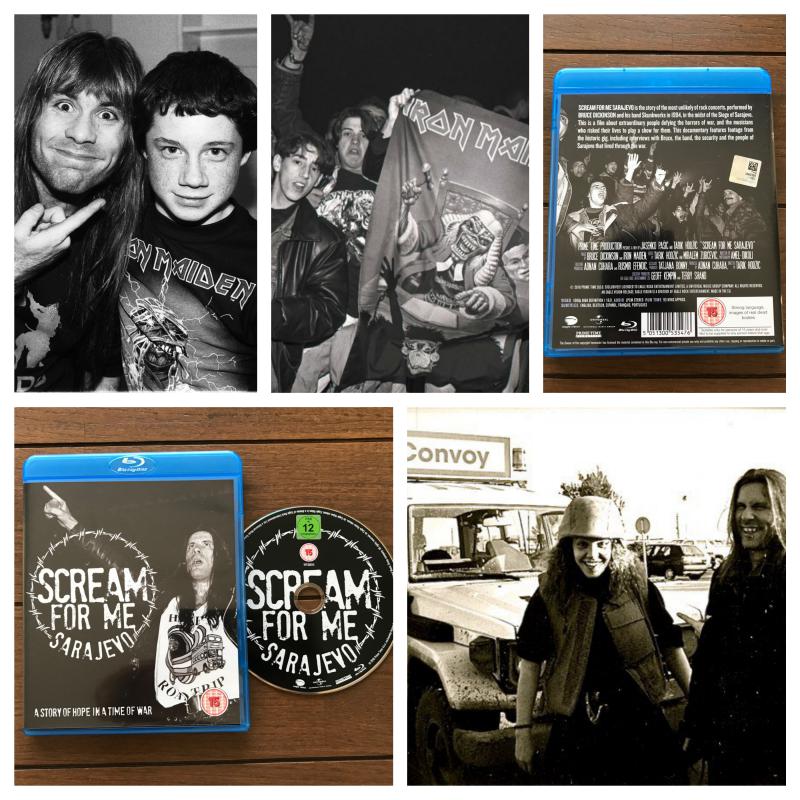 We're a rock band, who wants to shoot us ?
Scream For Me Sarajevo, efsanevi İngiliz heavy metal grubu Iron Maiden'ın solisti Bruce Dickinson'ın 1994 yılında Bosna Savaşı sırasında Sırp işgali altındaki Saraybosna'da verdiği konser, ve konsere hazırlanma aşamasında yaşananlar, Saraybosna'da yaşananlar ile Bruce ve grubu Skunkworks'un üyelerinin yaşadıkları üzerine çekilmiş bir belgesel. İşgal altında bir şehirde konser vermek gerçekten cesaret isteyen efsanevi bir olay ve bunu olsa olsa herhalde sadece rock/metal grupları yapabilir diye düşünüyorum. Belgeseli izlerken Dickinson'ın kararı ve kararın sonrasında Saraybosna'ya ulaşım konusunda yaşananları izlerken hayal edebileceğimizden çok daha zor bir şeyi gerçekleştirdiklerini anladım.
Bir uçak veya helikopter ile şehre inip konseri askerlerin koruması altındaki bir mekanda verip sonra yine uçarak şehirden ayrılmışlardır diye düşünüyor ilk bakışta insan. Dickinson'da konser kararını verirken aynen benim dediğim gibi olur diye veriyor açıkçası. Ama gelişen olaylar sonrası bir kamyonun arkasında Saraybosna'da kuşatılamamış tek dağ olan Igman Dağı'nı geçerek gece boyu yapılan bir yolculuk, grup üyeleri dahil kimsenin aklının ucundan geçmemiş. Üstelik bulunan kamyonun üzerinde Road Runner figürü olan sarı renkte adeta vur beni mesajı ileten bir kamyon olması, izlerken insanı şaşkınlığa sürüklüyor. Chris Dale'ın "We're a rock band, who wants to shoot us ?" sözleri ve sonrasında gördüğümüz Saraybosna'daki katliamı gözler önüne seren görüntüler insanda soğuk duş etkisi yaratıyor.
1990'larda Saraybosna'da yaşayan alternatif müzikle ilgilenen gençlerin yaşamları, savaş zamanı yaşananlar ve savaşın onları ve gruplarını nasıl etkilediği üzerine röportajların yer aldığı belgesel, insanların savaşa rağmen nasıl morallerini yüksek tutmaya çalıştıklarını gösteriyor. Bu açıdan Bruce Dickinson gibi bir efsanenin şehre gelip konser vermesinin verdiği moral çok önemli. Konser sonrası grup elemanları ve konsere katılan izleyiciler ile günümüzde çekilen röportajlarda bunu açıkça görebiliyoruz. Grup üyelerinin dünya görüşleri değiştirmiş bu konser hayatlarında bir mihenk taşı haline gelmiş adeta.
Diski internet üzerinden BluRay tedarik edebileceğimiz sitelerden alabiliyoruz. Ben Kadıköy'deki Hammer Müzik'ten aldım. Benim elimdeki kopyada Türkçe altyazı seçeneği yok. İngilizce altyazılı olarak izledim. İnternet üzerinden tedarik edeceğiniz disklerdeki altyazı seçeneklerini bilmiyorum açıkçası.
Diskte herhangi bir ekstra bulunmuyor. Sadece belgeseli ve altyazı seçeneklerini içeriyor.